BREEDERS CORNER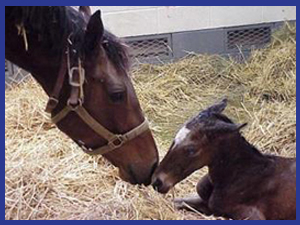 BC breeding is the foundation to racing in British Columbia.
BC NEW FOAL INCENTIVE - FOALS OF 2020

HRBC IMPLEMENTS BC MARE REGISTRY PROGRAM - HRBC has implemented the BC Resident Mare Enrollment to begin with all Breeders registrering their mares with HRBC at no charge for 2019; mare in foal or not. In order to receive the BC New Foal Incentive of $1,750, the mare of the foal must be registered with HRBC to be eligible to apply.
2020 Mare Registry Form - Printable
2020 BC New Foal Incentive Application - Printable
---
All BC Bred 2020 Foals that submit a completed New Foal Incentive Application may receive $1,750 incentive payment providing eligibility and applications are accepted by HRBC. Mare must be registered with HRBC to be eligible.
DEADLINE: ALL APPLICATIONS MUST BE SUBMITTED TO THE HRBC OFFICE NO LATER THAN DECEBMER 31st (YEAR OF FOALING) IN ORDER TO RECEIVE THE INCENTIVE PAYMENT OF $1,750 FOR THE 2019 FOAL.
---
---
2019 HRBC YEARLING & MIXED SALE
Harness Racing BC is proud to announce the 2019 Yearling/Mixed Sale, has been booked for Wednesday, October 2, 2019 in the Agriplex building located on the Cloverdale Fairgrounds. Sale Entry Applications can be found under Events or can be picked up at the HRBC office.
Please stay tuned for further details to follow ....
---
Changes to Identification of Standardbred Horses - January 2019
Beginning January 1st 2019 all standardbred horses needing identification will be microchipped and SC will no longer off freeze branding identification. Please read the following forms to ensure you are ready for this change in the industry.
Notice Notice of Change to Standardbred Horse Identification
Microchipping Guidelines Policy & Regulation
---