2017 BC STANDARDBRED INDUSTRY AWARDS BANQUET
Please join us on Tuesday, February 27, 2018 to celebrate and honour our 2017 Champions! This years' banquet will be held at Elements Casino in the Dragon Lounge; evening program offers a buffet dinner, award presentations and dancing to follow with DJ music.
Ticket price is $30 per person and can be purchased in the office of Harness Racing BC.
---
SALE RESULTS
On behalf of HRBC I would like to thank all of you that came out for our Sale yesterday evening. To view our Sale Results, please click below:
ATTENTION ALL CONSIGNORS FOR THE UPCOMING YEARLING & MIXED SALE
Negative Coggins Test - You will be required to produce your Negative Coggins Test which will need to be done prior to the arrival on the Cloverdale Fairgrounds and / or Fraser Downs Backstretch. Please ensure that a copy is submitted to the HRBC office, attention Diane.
Show barn Availability to Move Horses In & Out - Horses will be available to enter their designated stall in the Show barn after 10:00 am, November 28th. All horses must leave the Show barn no later than 10:00 pm, November 28th. If you are coming from out of town with your horse, please contact Diane (HRBC office) if you need alternate arrangements made for earlier arrival due to weather conditions during your travel.
Viewing - Consignors please have horses ready by 2:00 pm for viewing.
Bartender - A Bartender will be available in the Show barn for the duration of the sale. No liquor will be allowed to enter or leave the Show barn.
Dinner Special - Debbie has offered to open the Backstretch kitchen from 4:00 pm to 8:00 pm. She will provide Chili & Garlic Toast for $5.00 and /or Hot Beef Sandwich with Mashed Potatoes & Gravy for $6.50. In addition, she will be offering a Hot Drink Special: Polar Bear which includes baileys, peppermint schnapps and hot chocolate with a topping of whip cream for $4.00 or Hot Buttered Rum for $4.00.
Thank you Debbie!
Come on out to our 2017 Yearling & Mixed Sale on November 28th @ 6:00 pm
We are showcasing 35 of the finest yearlings and 6 quality Broodmares purchased by HRBC to be auctioned off at our sale.
In addition, HRBC will be offering a Credit Voucher Give-Away, up to a $1,000 Credit Voucher towards the purchase of a Yearling.
To view conditions of the vouchers, please see file below:
SEE YOU AT THE SALE!
Breeders Classic Day, November 11, 2017
Congratulations Breeder Stake Finalists
On behalf of HRBC, the owner will be entitled to two (2) complimentary buffets (per horse) located at Elements Casino at Fraser Downs Racetrack in the Dragon Lounge on Breeders Classic Day, November 11th. If you are able to attend, please call Elements Casino Reservations at 604-575-5603 between November 1 -10th and ask for Tricia to book your seats or table. If additional tickets are needed, you may purchase them at the time you confirm your attendance. Please note that the comps from HRBC are not transferable other than to a family member, trainer or groom.
If you have any questions regarding the complimentary buffets please call Diane (HRBC).
Looking forward to sharing this honoured event with you! See you at the races.
Sale Pedigrees are in! To view list of the yearlings and broodmares being offered, please click the file below.
2017 HRBC YEARLING & MIXED SALE APPLICATION FOR SALE ENTRY - NOVEMBER 28, 2017
Please join us for the 2017 edition of the HRBC Yearling & Mixed Sale. As in previous years, our annual horse auction will be conducted in the Cloverdale Showbarn, adjacent the backstretch at the Fraser Downs Racetrack. The officical sale will begin at 6:00 p.m., Tuesday, November 28, 2017.
Note: BC Sale Stake will be attached to this sale for ALL YEARLINGS that go through the sale ring or use the Sale Stake Exception to be eligible to the stake without going through the ring. Please note that only BC BREDS can use this option.
2017 BROODMARE ENTRY PEDIGREES
2017 YEARLING/MIXED SALE ENTRY FORM
2017 SALE STAKE EXCEPTION APPLICATION
STANDARDBRED CANADA TRANSFER APPLICATION
All entries closed on October 2nd - 35 yearlings have been entered into the sale and 10 yearlings were entered using the Exception Fee. The exception fee allows these yearlings to participate in the sale stake without the yearling having to be sold through the sale ring on November 28, 2017.
SURREY OPEN DOORS - JUNE 17th 11am to 4 pm
Tell your friends and family about visiting the harness racing horses in the Backstretch at Fraser Downs on Saturday June 17th from 11am to 4pm as we participate with the City of Surrey in the Doors Open Program!
2016 STANDARDBRED INDUSTRY AWARDS GALA
Mark your calendar:On Tuesday, Februay 28, 2017, HRBC will be holding the 2016 Awards Banquet at Elements Casino. To nominate your favourite horse or person, please complete a nomination form as listed below and return to the HRBC office no later than January 6, 2017.
And the winner is ....
On behalf of Harness Racing BC, directors, staff and membership, we would like to congratulate all of the award winners at last night's gala.
To view the list of the 2016 Award Winners, please see file below.
2016 Standardbred Industry Award Winners
NOMINEES for the Breeding and Racing categories are as shown below.
On behalf of HRBC a very special thank you to all of the Stallion Owners who have donated so generously to our auction and a huge thank you for our very own Director, Sandra Roberts for spearheading this event.
BIDDING OPENS FEBRURAY 6th, BIDDING CLOSES MARCH 3rd....Auction is open to all who wish to bid. Bids are not revealed until auction has closed. The winner is determined by the highest bid entered for each stallion; winners will be contacted Monday, March 6th. Please note that it is the successful bidders responsibility to pay the shipping fees of the semen.
STALLONS MINIMUM BID
CUSTARD THE DRAGON $ 750
DOMITIAN HANOVER $750
MYSTERY CHASE $ 500
MYSTICIAN $ 750
SANTANNA BLUE CHIP $ 750
SIR LUCK $ 750
VERTICAL HORIZON $500
ALL PROCEEDS WILL GO DIRECTLY TO HRBC BENEVOLENT FUND. THANK YOU IN ADVANCE FOR YOUR SUPPORT, HAPPY BIDDING!!!
Fraser Downs Horse Racing Club
Horse Racing Club Trainer Application
2016 YEARLING/MIXED SALE
The PASSION begins here.....
RESULTS ARE IN....... TO VIEW PLEASE CLICK BELOW
---
ATTENTION HORSEMAN: SALE CATALOGUES HAVE ARRIVED FROM THE PRINTERS, PLEASE VISIT HRBC OFFICE IF YOU WOULD LIKE TO PICK ONE UP.
LATE ENTRIES EXTENDED TO OCTOBER 14TH
Total entry fee is $210.00, visit the HRBC for futher details.
Members: It has come to our attention that there is some confusion on the taxes related to the upcoming Yearling/Mixed Sale. To allow us time to contact all members to clarify this issue, entries will be accepted until September 15th, waiving the current late fee. Please note that the entry fee is $157.50 (gst included).
---

HRBC will be conducting the 2016 Yearling & Mixed Sale on November 28, 2016 @ 6:00 pm to be held in the Showbarn,Cloverdale Fairgrounds. For this upcoming sale, a Sale Stake will be attached to ALL yearlings that go through the ring. An exception fee will be offered for only BC Bred yearlings. Please find Sale Entry Forms below.
---
2016 Yearling & Mix Sale Entry Forms
VOUCHER GIVE-AWAYS AT THE SALE...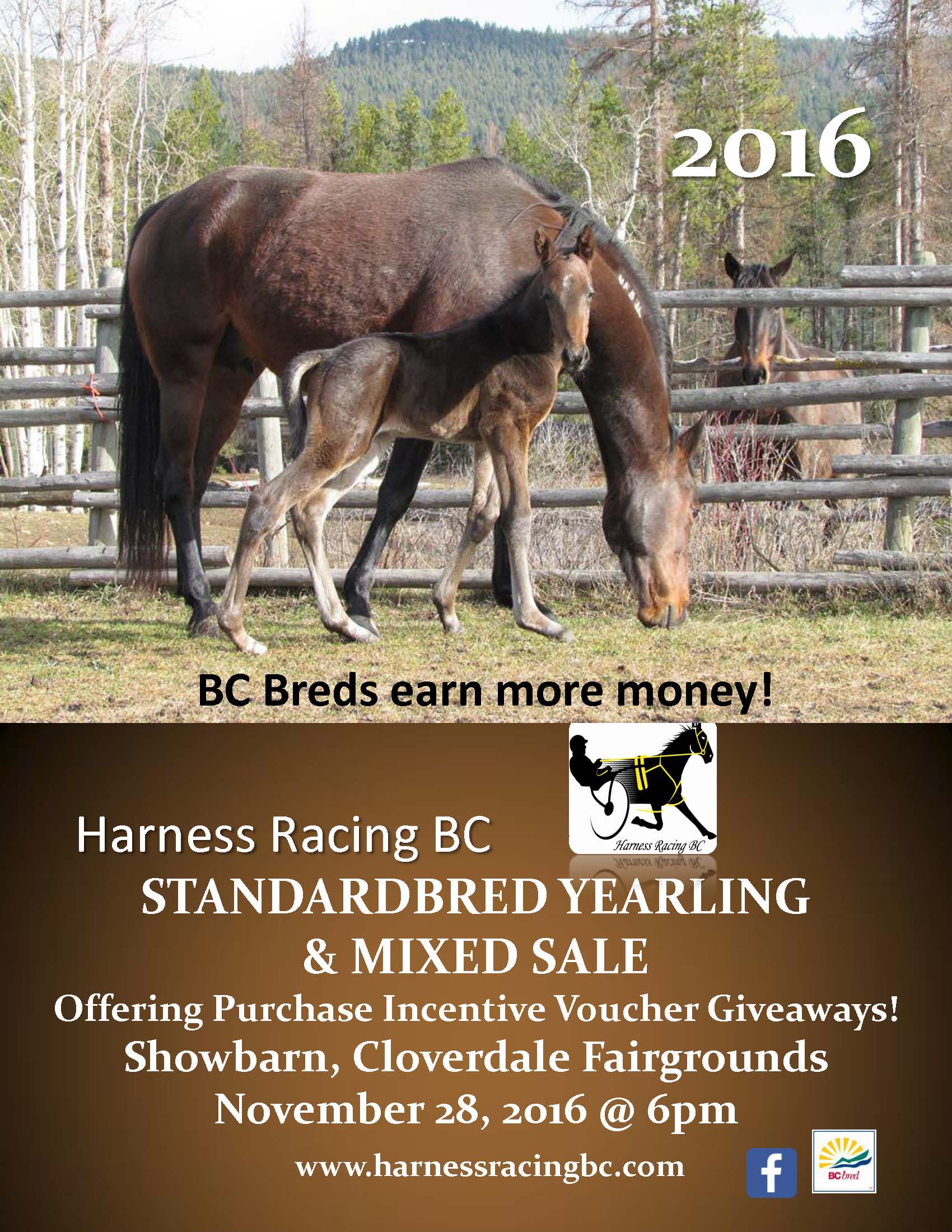 ---