BACKSTRETCH FEATURES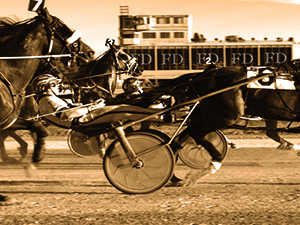 The Backstretch is the heart and hub of racetracks across Canada. It's all about the Standardbred Horses and the people who look after them and ensure their health, happiness and safety for racing in the Province of BC.

A walk through any of the big red barns at Fraser Downs reveals the devotion and hard work of the horsemen of Harness Racing BC that drive so much of our economy at the local, provincial and federal levels. It takes an army of hardworking people to prepare the horses for their racing careers.

Breeders who devote their livelihoods to the development of bloodlines that produce quality horses, grooms who feed, bathe, shovel manure, and care for the horses every single day.
Trainers and Drivers who ensure the horses are in carefully designed training and exercise programs to ensure their health and progress as the athletes. And the Owners, who proudly chat with their team, and yes, with their horses - bestowing daily pats and hugs upon them. It's not just the passion that lives here, it's also the lifestyle of the horsemen.
This column features those people and horses that drive this incredible industry.