ATTENTION MEMBERS:
Considering the current concerns with the developing COVID-19 situation, we would like to reassure you that we are focussed on the health and welfare of our members and business community.
Please be advised that Elements Casino will temporarily suspend all operations as of Sunday, March 15, 2020 at 11:59 pm. With regards to whether or not racing has been cancelled has not as yet been determined but will offer an update once we have confirmation.
We appreciate your understanding during this unprecedented situation.
---
IMPORTANT UPCOMING ITEMS/DATES:
Attention 2020 HRBC Members:
The Board of Directors of Harness Racing BC Society hereby gives notice of the Annual General Meeting for 2020. AGM to be held on Wednesday, April 8th, 2020 at 5:00 pm in the Backstretch Restaurant. Please note that nominations for the vacant Director positions close on March 2nd. Nomination form can be printed from the file listed below.
---
IMPORTANT NOTICE: Due to poor track conditions, Friday evening's (Jan. 24th) race card has been cancelled. Track crew will continue to work deligently to prepare the racing surface for Sunday's race card.
HRBC 2020 STAKE SCHEDULE IS AVAILABLE - Click Stakes and go to Stake Schedule/Forms
4 YEAR OLD BC BRED MARES STAKE - CANCELLED DUE TO INSUFFICIENT ENTRIES
---
HRBC ANNUAL GENERAL MEETING - APRIL 8, 2020 - MUST BE A MEMBER OF HRBC IN GOOD STANDING TO VOTE
AWARDS BANQUET - APRIL 14, 2020 - NEWLANDS GOLF & COUNTRY CLUB - TICKETS $50 PER PERSON

To nominate your favourite horse or person please give your written nominations by filling out the BC Standardbred Industry Awards Banquet Criteria as shown below.
Nominate Your Horse or Person for an Award - Printable and return to the HRBC office
---
2020 Memberships are due December 31, 2019
BC MEMBER, HEATHER DAVIES ELECTED AS BREEDER DIRECTOR FOR THE WESTERN REGION.
On behalf of HRBC Board of Directors, staff and membership we would like to Congratulate Heather on the newly elected position to represent the Western Region for a 3 year term as a Breeder Director on the SC Board of Directors. Please see results below:
As a result of Director Nominations by the Standardbred Canada membership, five of the 15 seats on the SC Board of Directors were acclaimed. Ten seats were voted on by eligible Standardbred Canada members with 22 percent voter turnout.
Following is a list of the 15 Directors that were acclaimed or elected by the membership. This Board will serve a three-year term from 2020 to 2022.
Please join the Standardbred Canada staff in welcoming the new Board of Directors and in thanking the Directors that will not be returning.
The first meeting of the new Board will take place on Thursday, January 30, 2020 in Mississauga, Ontario.
BOARD OF DIRECTORS 2020 – 2022
WESTERN REGION
Active Director: Blair Corbeil

Breeder Director: Heather Davies

Track Director: Paul Ryneveld (Acclaimed)
ONTARIO REGION
Director: Blair Burgess, Jim Whelan

Breeder Director: Gerry Belore, Ann Straatman

Track Director: Ian Fleming, Bill McLinchey
QUEBEC REGION
Active Director: Richard Veilleux (Acclaimed)

Breeder Director: Denitza Petrova (Acclaimed)

Track Director: Murielle Thomassin (Acclaimed)
ATLANTIC REGION
Active Director: Andrea Rennison

Breeder Director: Tony Zuethoff

Track Director: Lee Drake (Acclaimed)
---
Standardbred Canada (SC) is pleased to announce that the Ontario Lottery and Gaming Corporation (OLG) will continue its partnership with SC on the Outstanding Groom Award for the fifth consecutive year. The award was introduced in 2015, and for the past four years has been presented at the O'Brien Awards Black Tie Gala.
Standardbred Canada is now accepting submissions for the award and the deadline to nominate an Outstanding Groom is January 3, 2020.
Do you know someone who puts their horses first; has worked in the industry for over five years, treats their horses with kindness and outstanding care, regardless of the horse or its ability? The candidate should have a strong work ethic, be dependable, a good sportsman and be based in Canada. Candidates must be over the age of 19. If you know or work with someone with these qualities, consider nominating him / her for this award.
Grooms are often the unsung heroes of harness racing and are critical to the success of any horse in any stable. Their relationship with the horse is by far the closest. Grooms provide the daily care and attention to the equine athletes. They keep the horses physically healthy and mentally happy, sometimes working seven days a week to make sure their horses are properly cared for.
Deadline for submissions is January 3, 2020. Please see nomination form below.
OUTSTANDING GROOM AWARD - O'BRIEN AWARD
---
2 YO Open Stakes STARTING FEES DUE

: Dan Ingram Memorial 2 YO Open C&G & The Fraser Miss 2 YO Open Fillies are due Tuesday, November 19th
ATTENTION MEMBERS: During our recent sale on October 2nd, the BC Bred yearling "OLD BROWN TRUCK" was purchased for $20,000; bidder did not complete the sale transaction which led HRBC to place the BC & Ontario eligible colt up for auction on the auction site, Ongait.

Please visit ongait.com to place your bid.
What a success! Last night during the 2019 HRBC Yearling Sale, we had 21 yearlings sold out of the 37 entered and hip # 20 Codename Cigar Box dominated the ring giving owner/breeder Surdale Farms Ltd.,sold to Kelly Hoerdt for a whopping bid price of $47,000, second in row was hip #16, If Only Id Known owned and bred by Surdale Farms sold to JJJ Stables for a price of $35,000, third in line was hip #27, Exotic Dragon owned and bred by Surdale Farms sold to Keith Clark for another big price tag of $25,000 and 4th in line was hip #4 Old Brown Truck owned and bred by Deborah Burstyk and sold to Justin Currie for a price tag of $20,000. To all of the consignors and new owners, CONGRATULATIONS!!

A special thank you to all of the sale staff for a job well done!!! To see the results from last nights sale, go to Events and click the file - 2019 HRBC Sale Results.
Total sales amounted to $256,500.00 with an average of $7,125.00.
2019 Horse Population Incentive of $750
In keeping with the commitment to increase the horse population for the Standardbred horse racing industry in BC, HRBC recognizes the importance of horses committed to racing at Fraser Downs Racetrack.
To view the conditions of this incentive please review the Letter of Commitment and Agreement below:
2019 HORSE Population Incentive Letter of Commitment and Agreement - Printable
ATTENTION MEMBERSHIP - EFFECTIVE NOVEMBER 1, 2019 Harness Racing BC will be charging an ENVIRONMENTAL FEE of $20.00 per stall.
DRIVER FEE POLICY EFFECTIVE SEPTEMBER 19, 2019 -
Beginning September 19th Harness Racing BC will be implementing a driver fee policy whereas driver fees will be deducted once a month off purse cheques from the said owner(s).
---
QUALIFIERS - Attention Horseman:
Qualifiers will begin on September 5th and September 12th @ 12:00 noon.
Jim and Bev Mohorich would like to ask for the cooperation of the members; it would be most helpful if you check your horses brand, you may have to clip to reveal the brand.
If after clipping the brand still is unreadable, get a printout of the brand and notify Jim as he will gladly chip your horse.
Time is of the essence as Jim and Bev Mohorich will be leaving the first week of September for Saskatchewan and Manitoba and will not be returning until mid or late September. If you take this opportunity and have a re-do, this will be done at no cost.
---
---
---
IMPORTANT NOTICE REGARDING OCTOBER 2, 2019 HRBC SALE
Please be advised that Harness Racing BC Society has been given notice by the Cloverdale Rodeo & Exhibition Association that the Agriplex building which we had booked for our sale will be undergoing significant renovations that will necessitate a full closure from August 2019 – December 2019.
The HRBC Board of Directors has discussed several possibilities for the venue and a decision was made to have the Sale on grounds (FD backstretch). We would like to reassure you that a well put together sale can still be accomplished by renting the equipment needed to seat our guests comfortable and ensure the safety of our horses. If you should have any questions or concerns, please contact Diane Pennington at the HRBC Office.

---
---
HRBC IMPLEMENTS NEW POLICY FOR PURSE CHEQUES - EFFECTIVE DECEMBER 13, 2018
Members, please be advised that HRBC will be implementing a new policy regarding purse cheques that have multiple owners. The following options available to owners are as follows:
1. Owners must appoint an Athorized Owner allowing purse cheques to be made payable to only ONE OWNER.
2. Owners may fill out the HRBC Cheque Authorization form allowing HRBC to split the cheques accordingly. To have the form accepted, HRBC will need signatures of all owners of said horse with appropriate percentage of ownership listed.
2018 HRBC CHEQUE AUTHORIZATION - PRINTABLE
Please Note: Standardbred Canada Authorized Agent forms are to be completed with Standardbred Canada, BC Representative, Sandra Isbister. Please do not confuse the authorized agent forms with the CHEQUE AUTHORIZATION form you may be required to complete with HRBC.
---
HARNESS THE VISION...At Harness Racing BC, we strive to provide quality, exciting races to increase revenue for our industry participants and the government. Harness Racing in Cloverdale contributes substantially to the BC economic sectors more than most sports and entertainment through job creation in a variety of sectors - agriculture, hospitality, tourism and careers directly related to working with the horses in the racing industry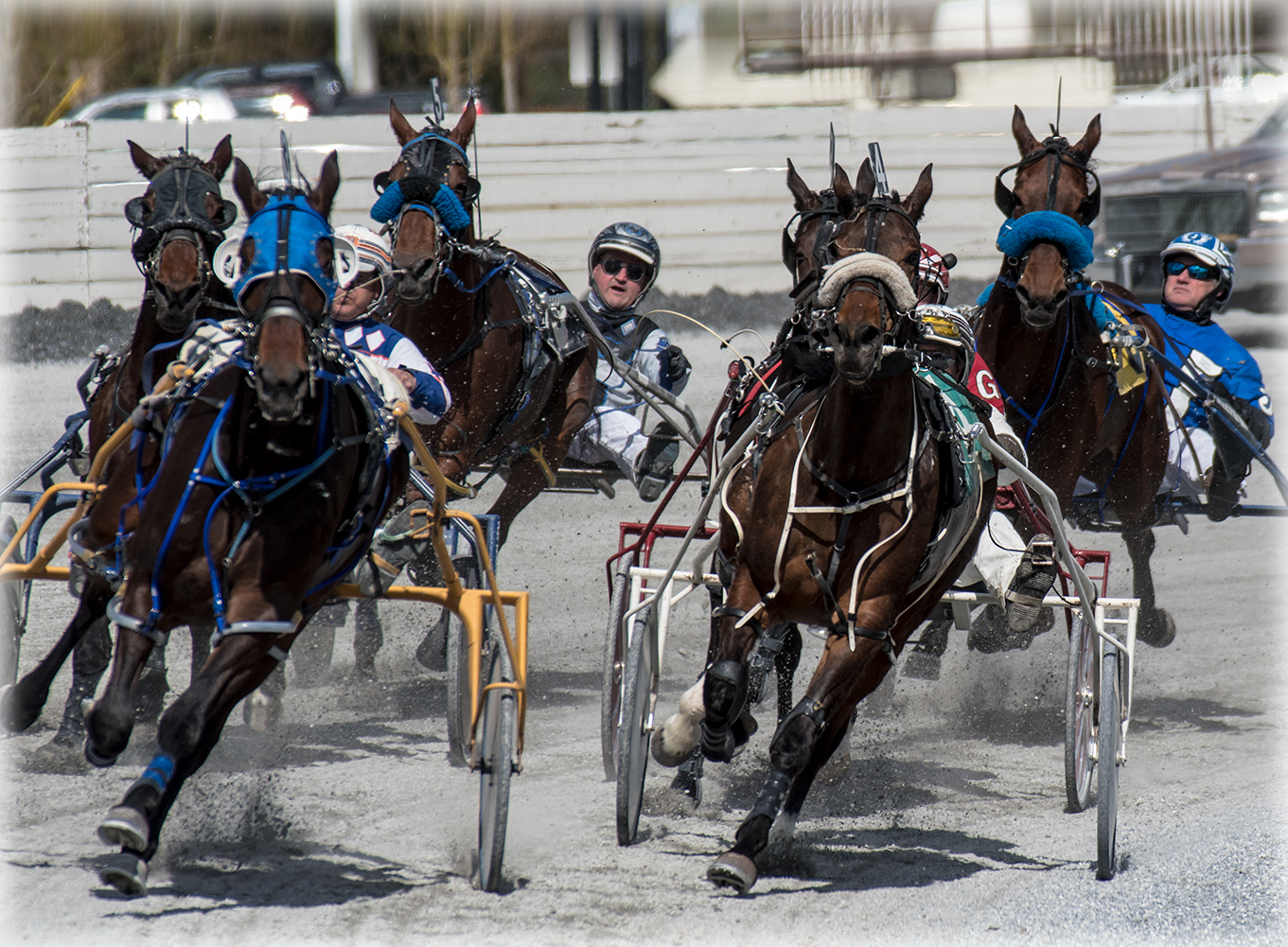 photo credit: Darren Lupul